Processes & tools
21 must-have features in a modern CMS for journalists
4 Sep 2023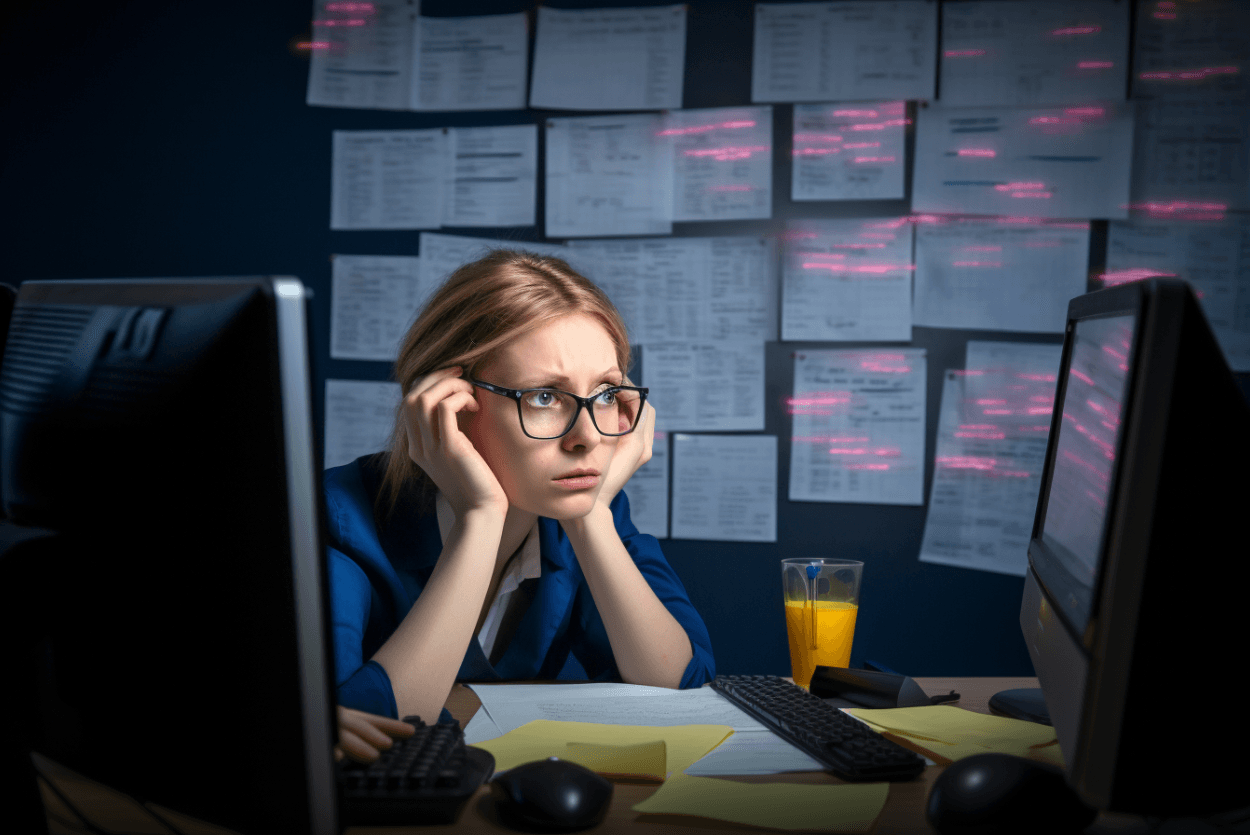 Even in modern newsrooms and media companies, journalists often encounter frustrating problems with content management systems (image generated by Midjourney).
Written by Autentika Team
Do you want your journalists to work with a CMS that allows them to focus on creating high-quality content while minimising time spent on administrative tasks and decision-making? Here is our list of 21 features that a good CMS in a digital newsroom should include to solve journalists' most common problems and improve editorial efficiency.
Even in modern newsrooms, journalists often encounter frustrating problems with content management systems that do not meet the demands of digital journalism.
Many of them are unintuitive and require a significant amount of time and effort to master. This steep learning curve can delay the productivity of new journalists or those moving to a new platform, and discourage potential talent from entering the field.
Read also: How to clean up a back-office system at an online media giant? Case study
Using external tools delays content delivery
In addition, many traditional CMS systems are not flexible enough to effectively handle multimedia content, real-time updates and collaborative workflows, so journalists use external tools and workarounds to compensate for these limitations. Sometimes, they have to switch between multiple platforms and tools within the newsroom system, resulting in fragmented workflows and delays in content delivery.
This also applies to collaboration – many CMS systems lack robust features for real-time collaboration, content review and feedback, leading to an increasing reliance on email and instant messaging for communication and inefficiencies in the editorial process.
In addition, many CMS systems are not designed for remote collaboration, even though remote working has been standard in journalism for several years. They also lack a user-friendly design. They may not offer enough workspace or have a cumbersome user interface, leading many journalists to opt for external writing tools where they feel more comfortable and productive.
Read also: 13 numbers that show measurable results behind the improved publishing workflow
All of these shortcomings of CMS systems lead to confusion and frustration and – by extension – hinder your organisation's potential and competitiveness in the media landscape. Perhaps you already know this – and have been looking for a new solution for some time. In this case, consider external advice or check whether a new tool meets the essential requirements.
That's why we present 21 features of a CMS that we believe are crucial for a smooth editorial workflow.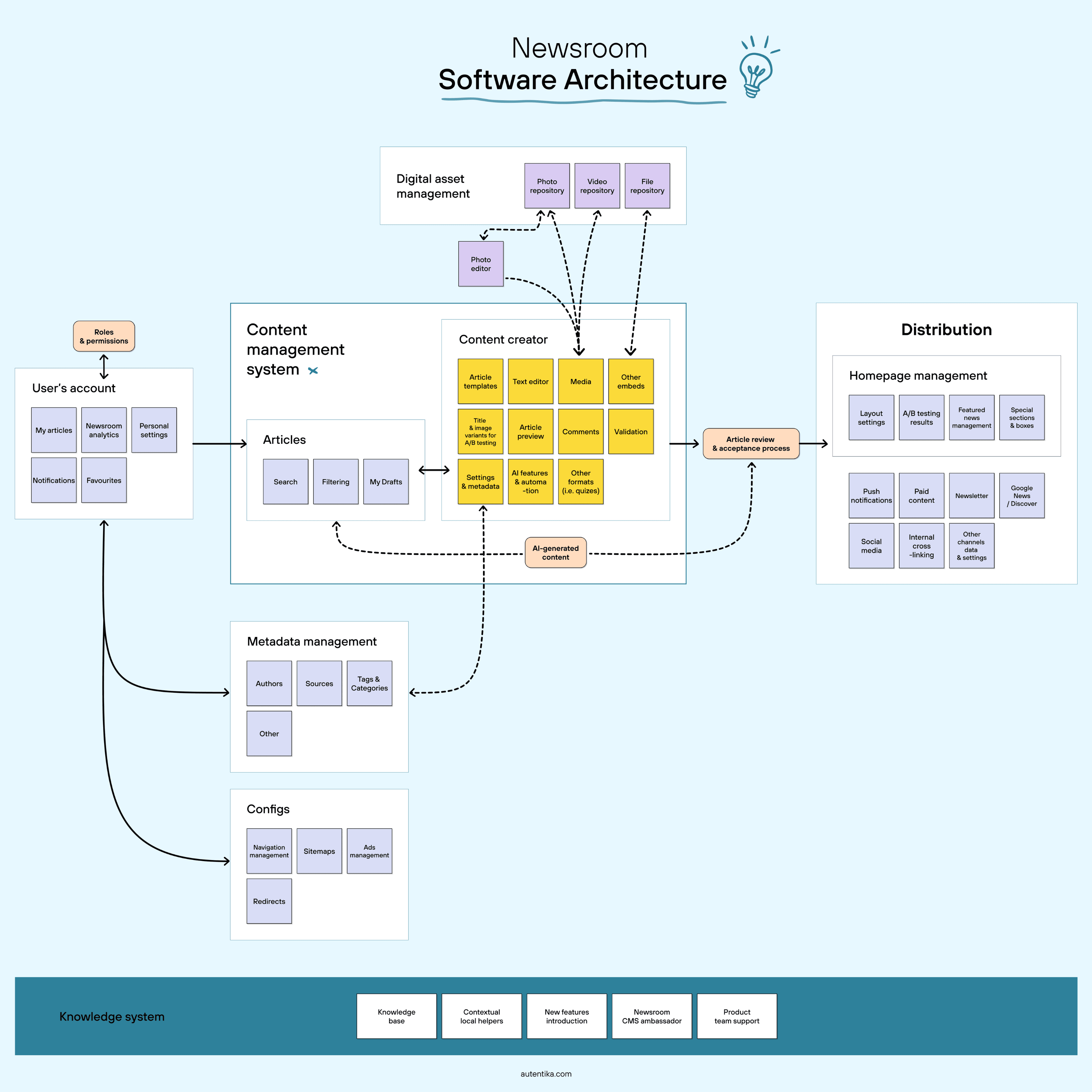 An example of newsroom software architecture scheme. Journalists often have to switch between multiple platforms and tools within the newsroom system, resulting in fragmented workflows and delays in content delivery (illustration by Autentika).
Essential features your CMS should have
Here is a list of 21 must-have features for a modern CMS designed to meet the needs of digital journalists.
1) Intuitive user interface
A clean and user-friendly interface that is easy to navigate reduces the learning curve for journalists. Prioritising simplicity and avoiding overwhelming users with irrelevant options and choices can significantly reduce the time needed to write and publish the article.
2) Automation of redundant tasks
Automation is the key to speeding up editorial work. The CMS should automate repetitive tasks and processes (such as for example metadata tag filling) to increase the speed and volume of content production.
4) Customisation
A system should support the individual needs of specific newsdesks and be able to customise the interface based on the most commonly used options and features to speed up daily work.
5) Visual workflow
Editors need a tool to see the distribution of material on the homepage and subpages – so the CMS should allow for a visual approach. Editors need to be clear about what they are publishing and where.
6) Mobile optimisation
The CMS should support publishing content for mobile devices and offer mobile preview options to appeal to the smartphone audience.
7) Customisable templates
Theis option enables to create and save custom templates for different types of content to streamline the publishing process.
8) Fast-track publishing feature
A fast, abbreviated publishing route for breaking news that is key to winning the competition.
9) Social media integration
Seamless integration with social media platforms for easy content sharing and engagement. In addition, the CMS should facilitate embedding links, creating graphics and uploading media for different social platforms.
Watch: An AI-powered feature integrated in the CMS that helps journalists create simple graphics for social media (a concept by Autentika)
10) Multi-platform publishing
The ability to publish content to multiple digital platforms, including websites, mobile apps, social media and newsletters.
11) Content scheduling
A scheduling system that allows journalists to plan and automate the publication of content at specific times and dates.
12) Content import/export:
Simple import and export functions for transferring content to and from external sources or systems.
13) Integrated tools and AI-powered features
Built-in SEO optimisation features or essential tools such as character counting and spell-checking reduce distractions and streamline the publishing process. Integrated AI-based features can be a major asset – check out this article to learn more about our AI concepts for newsrooms and how they streamline content production.
Watch: An AI-based feature that helps journalists optimise their articles for SEO (a concept by Autentika)
14) Communication and information exchange
Existing communication tools should seamlessly integrate into the CMS to facilitate information flow and collaboration. Information sharing should be possible within the CMS – journalists should know immediately what is happening, who is writing what and where. This helps to increase dynamism, avoid errors and relieve the editors.
15) Real-time collaboration
Integrated real-time collaboration tools that allow multiple journalists and editors to work on the same content at the same time.
16) Robust search engine
A powerful content search engine is essential for fast editorial work. It should deliver fast and accurate results for advanced queries.
17) Advertising awareness
Editors should be aware of the advertising environment within their materials and promote a holistic approach to content and marketing. The CMS should support integration with advertising and subscription management systems to encourage revenue generation.
18) User-friendly onboarding
19) Knowledge base
The implementation of the CMS should be accompanied by building a knowledge system around the tool that provides constant access to the knowledge collected and ensures that users can easily find information and guidance.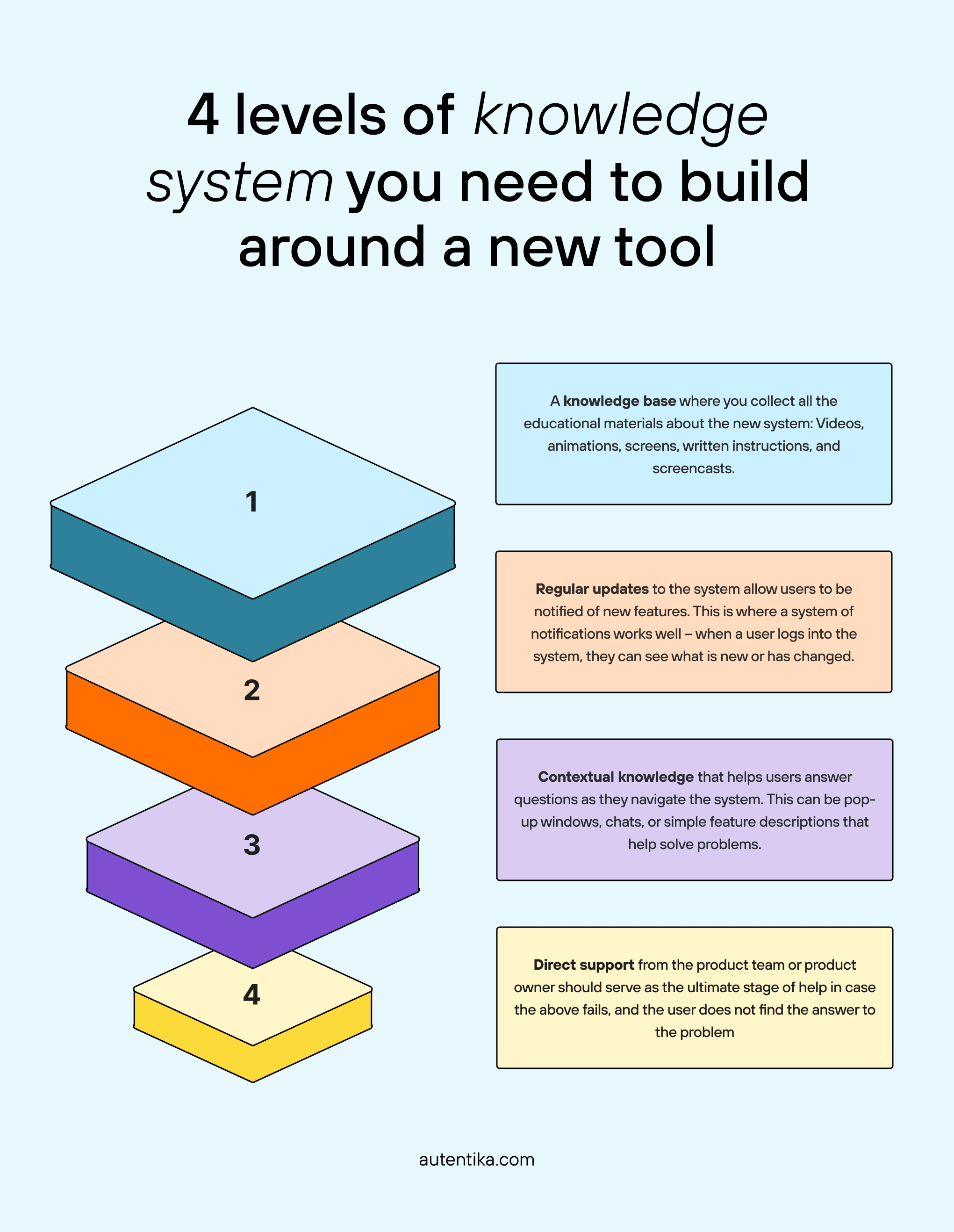 Four levels of knowledge you need to sucessfully implement a new tool – according to our methodology (illustration by Autentika).
20) Autosave and data protection
Protection and preservation of editors work with an autosave mechanism and clear communication of potential data loss during interactions.
21) Version control
Automatic version tracking and revision history to easily return to previous versions of an article.
Benefits of a more intuitive CMS
A well-designed CMS brings several benefits to publishers, including reducing the time to publish urgent news (up to 70 %, as our experience shows). As a result, overall efficiency across the organisation increases – in the case described here , it increased by 10 % (journalists can now write 10 % more articles daily).
But the efficiency of a CMS is not just about saving time, it is also about winning the race for the best news, maintaining a coherent and visually captivating publication and adapting seamlessly to the demands of a fast-moving industry. An intuitive CMS minimises clutter and distractions and allows editors to focus on the essence of journalism — creating high-quality content that informs, engages and resonates with readers
An intuitive CMS also means equipping your staff with reliable, modern tools, which can impact staff satisfaction. Journalists working with outdated, non-intuitive software may feel they are not taken seriously. Sometimes, a lack of modern tools and pressure to produce better results can lead to increased stress, lack of motivation to work and higher turnover.
Finally, an intuitive and simple CMS does not require hours of training, which makes it easier to train staff and allows newcomers to find their way around more quickly. Someone starting in your editorial department shouldn't have to spend weeks learning new systems and constantly ask colleagues how to insert an image into an article. The more intuitive the interface, the easier it is to learn and use, which can save a lot of time and money.
We have already developed systems that eliminated the need to enter unnecessary information manually, allowed faster photos and multimedia content insertion and had a "fast track" feature. We have seen remarkable results – over 80% of users were satisfied with the new editor functions. Take a look at Autentika's projects for Newsrooms.
If you'd like to discuss your organisation's needs, get in touch – we are happy to support you with any challenge.
Want to stay up to date with latest trends of news?
Subscribe to our CEOs Linkedin newsletter!